July Player and Coach of the Month / Joueur et entraîneur du mois pour juillet
---
---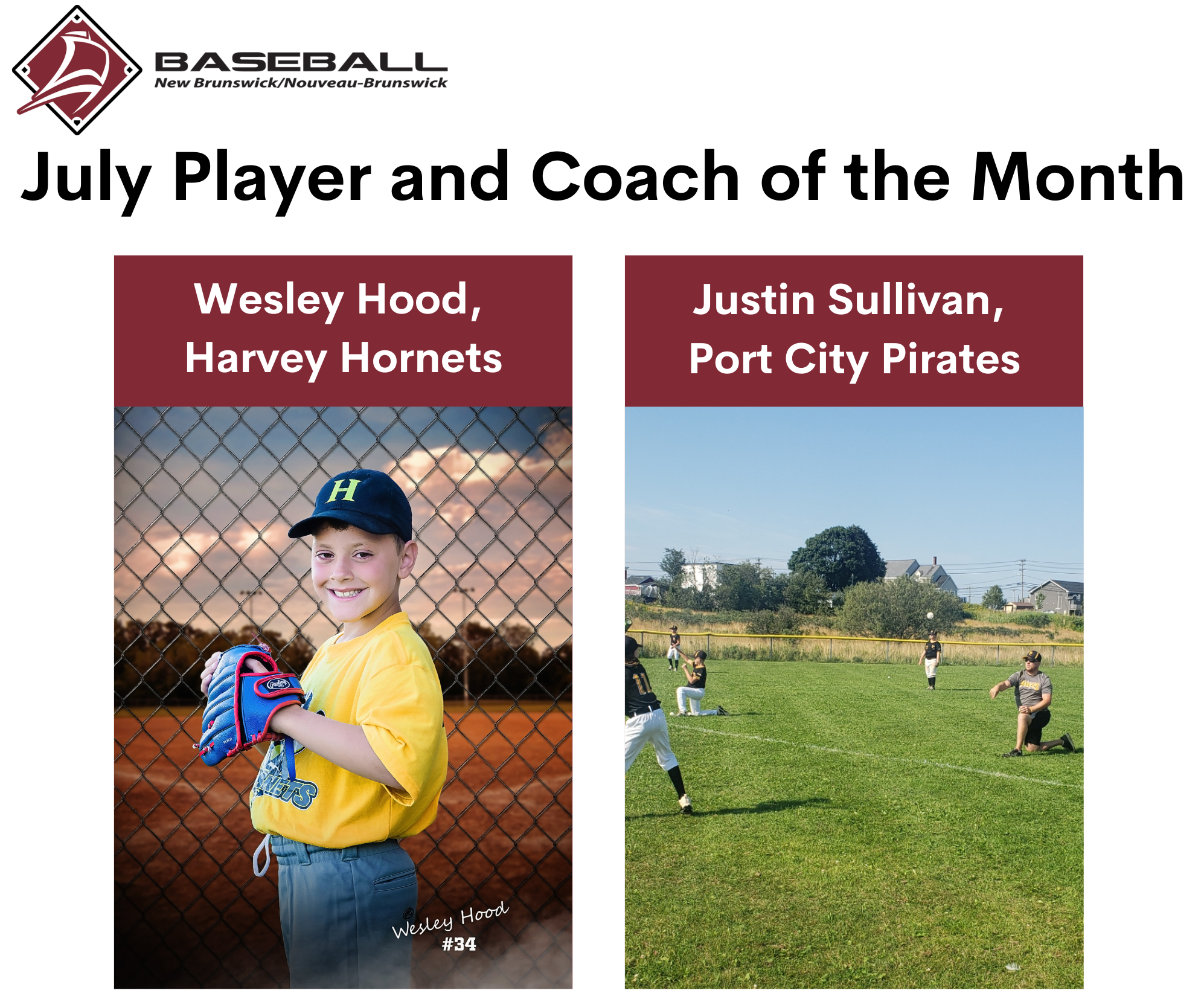 ---
Wesley Hood
Wesley is a player for the 9U Harvey Hornets. He has been chosen as the Player of the Month for July for his sportsmanship, positive attitude, and overall skill.
As his nominator said, Wesley "excels in skill, good sportsmanship, being a good team player, helping his teammates learn better techniques, and an overall positive attitude. He has a lot of potential to be a very good player"
Congrats Wesley, for your success thus far. We can't wait to watch you progress in the years to come!
-
Wesley est un joueur de l'équipe 9U Harvey Hornets. Il a été choisi comme le joueur du mois de juillet pour son esprit sportif, son attitude positive et ses compétences générales.
Comme l'a dit son nominateur, Wesley "excelle dans l'habileté, l'esprit sportif, l'esprit d'équipe, l'aide à ses coéquipiers pour qu'ils apprennent de meilleures techniques, et une attitude positive générale. Il a beaucoup de potentiel pour devenir un très bon joueur".
Félicitations Wesley, pour ton succès jusqu'à présent. Nous sommes impatients de te voir progresser dans les années à venir !
Justin Sullivan
Justin is the head coach for the 11U Major Port City Pirates. He has been volunteering with the Pirates for four years and has been chosen as the Coach of the Month for his positivity, commitment, and passion.
As his nominator said, "Justin is tirelessly positive and optimistic. The time he spends planning practices and creating line-ups is second to none. He gives 110% to each and every athlete on his team. Justin has unlimited time for his athletes' questions or when they want to work on something… His passion, dedication, and commitment to his 11U team is unparalleled. He develops not only skills but a love of a game and team camaraderie, which is what every parent wants for their child. These boys love going to practice and they work hard because they have a coach who is patient, teaches, and goes out of his way to create an inclusive environment in which every athlete can learn. The improvement in this team is amazing and I am excited to see where the rest of this season takes them."
When asked about a highlight from his time coaching, he mentioned two specific moments. The first was watching a player progress from being scared in the batter's box to being able to hit the ball all over the place because he worked at it consistently. Another moment that stood out to him was when a player hit a home run in the last game of the season. He explained that this specific team struggled throughout the season but that this moment gave the players the confidence they needed to play at a higher level the following season.
It is clear that Justin is tirelessly dedicated to each and every player on his team. He is a true example of an all-around coach; someone who helps his players develop on and off the field. Thank you, Justin, for all that you do- your players are lucky to have you as coach!
-
Justin est l'entraîneur principal des 11U Major Port City Pirates. Il fait du bénévolat pour les Pirates depuis quatre ans et a été choisi comme entraîneur du mois pour sa positivité, son engagement et sa passion.
Comme l'a dit son nominateur, "Justin est inlassablement positif et optimiste. Le temps qu'il consacre à la planification des entraînements et à la création des alignements est sans égal. Il se donne 110 % à chacun des athlètes de son équipe. Justin a un temps illimité pour répondre aux questions de ses athlètes ou lorsqu'ils veulent travailler sur quelque chose... Sa passion, son dévouement et son engagement envers son équipe 11U sont inégalés. Il développe non seulement les compétences, mais aussi l'amour du jeu et la camaraderie au sein de l'équipe, ce que tout parent souhaite pour son enfant. Ces garçons aiment aller à l'entraînement et travaillent dur parce qu'ils ont un entraîneur qui est patient, qui enseigne et qui fait tout son possible pour créer un environnement inclusif dans lequel chaque athlète peut apprendre. L'amélioration de cette équipe est étonnante et je suis impatient de voir où le reste de la saison les mènera."
Lorsqu'on lui a demandé de citer un moment fort de sa carrière d'entraîneur, il a mentionné deux moments précis. Le premier a été de voir un joueur passer de la peur dans le rectangle du frappeur à la capacité de frapper la balle dans tous les sens parce qu'il y travaillait régulièrement. Un autre moment qui l'a marqué est celui où un joueur a frappé un home run lors du dernier match de la saison. Il a expliqué que cette équipe avait eu des difficultés tout au long de la saison, mais que ce moment avait donné aux joueurs la confiance dont ils avaient besoin pour jouer à un niveau plus élevé la saison suivante.
Il est clair que Justin se consacre sans relâche à chacun des joueurs de son équipe. Il est un véritable exemple d'entraîneur polyvalent, qui aide ses joueurs à se développer sur le terrain et en dehors. Merci, Justin, pour tout ce que tu fais - tes joueurs ont de la chance de t'avoir comme entraîneur !