June Player and Coach of the Month / Joueur et entraîneur du mois pour juin
---
---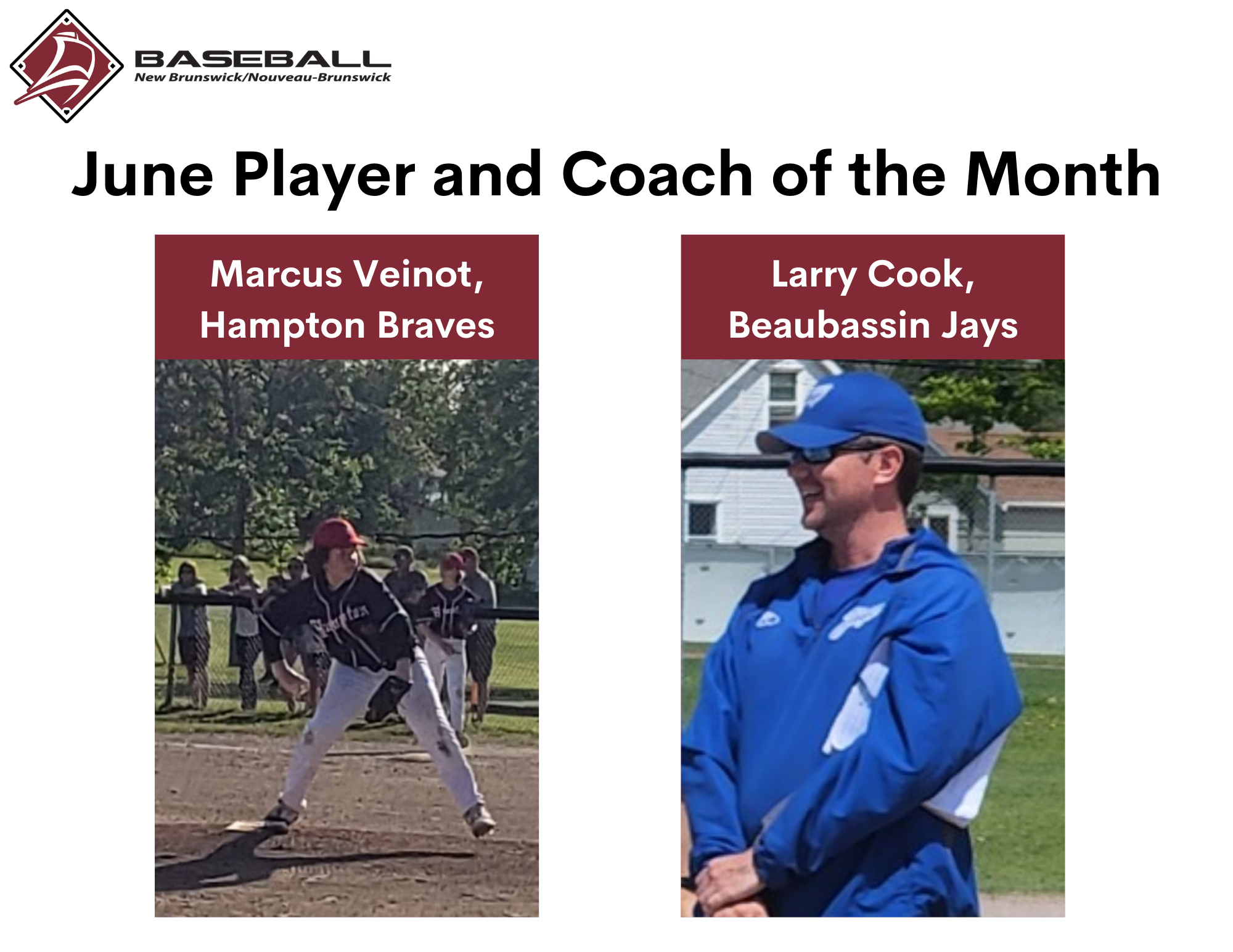 ---
Marcus Veinot
Marcus Veinot is a player for the 13U AA Hampton Braves. He has been chosen as the Player of the Month for June because of his hard work, growth, and love of the game. Here is what Marcus' coach had to say about why he is deserving of recognition:
"I have coached Marcus for the last three years. In those 3 years I truly believe Marcus is getting better and better every year. Marcus is a very talented pitcher, and does Marcus ever love to pitch. Marcus used to ask me at every game if he could pitch.
But this year, something just seemed to click with Marcus. Marcus is hitting the ball hard when he is up to bat. Paying attention on the bases and making smart base running decisions. And playing good defense. And of course, pitching well.
Marcus is a wonderful kid to coach and provides many laughs to his teammates, coaches, and parents. Marcus's teammates have given he the nickname "Bubba" this year."
Big congrats to Marcus and good luck with the rest of the season!
-
Marcus Veinot est un joueur de l'équipe 13U AA Hampton Braves. Il a été choisi comme le joueur du mois de juin en raison de son travail acharné, sa croissance et son amour du jeu.
Voici ce que l'entraîneur de Marcus avait à dire sur les raisons pour lesquelles il mérite cette reconnaissance :
"J'ai entraîné Marcus au cours des trois dernières années. Au cours de ces trois années, je crois vraiment que Marcus s'améliore d'année en année. Marcus est un lanceur très talentueux, et il aime vraiment lancer. Marcus avait l'habitude de me demander à chaque match s'il pouvait lancer.
Mais cette année, il y a eu un déclic chez Marcus. Marcus frappe la balle très fort quand il est à la batte. Il fait attention sur les bases et prend des décisions intelligentes. Et il joue une bonne défense. Et bien sûr, il lance bien.
Marcus est un enfant merveilleux à entraîner et il fait beaucoup rire ses coéquipiers, ses entraîneurs et ses parents. Les coéquipiers de Marcus lui ont donne le surnom de "Bubba" cette année".
Toutes nos félicitations à Marcus et bonne chance pour le reste de la saison !
Larry Cook
Baseball NB is happy to announce that our Coach/Volunteer of the Month for June is Larry Cook. Larry is a long-time volunteer with the Beaubassin Jays, currently serving as Vice President of the association as well as head coach of the 18U competitive team and assistant coach of the 13U competitive team. Over the past 6 years, he has coached 8 different teams.
As described by his nominator, Larry works tirelessly behind the scenes throughout the summer and the off-season. As Vice President, he has been involved with grant applications and field maintenance and has been a key player in the growth of the association. As a coach, he is described as being an incredibly positive role model and community minded.
When asked about the highlights from his time coaching and volunteering, Larry described watching the association and players grow and develop as the biggest highlight. In his time coaching, he has watched players progress from their first time on the field to AAA baseball and always appreciates when players come back to chat with him about their time playing for him.
It is clear that Larry has had a major impact on countless players in Beaubassin and is a dedicated coach and association executive member. For that reason, Baseball NB is proud to award him as the Coach of Month for June. Thank you, Larry, for everything that you do!
-
Baseball NB est heureux d'annoncer que notre entraîneur/bénévole du mois de juin est Larry Cook. Larry est un bénévole de longue date auprès des Jays de Beaubassin. Il occupe actuellement le poste de vice-président de l'association ainsi que celui d'entraîneur en chef de l'équipe compétitive 18U et d'entraîneur adjoint de l'équipe compétitive 13U. Au cours des 6 dernières années, il a entraîné 8 équipes différentes.
Comme l'a décrit la personne qui a proposé sa candidature, Larry travaille sans relâche dans les coulisses pendant l'été et la saison morte. En tant que vice-président, il a participé aux demandes de subventions et à l'entretien des terrains et a joué un rôle clé dans la croissance de l'association. En tant qu'entraîneur, il est décrit comme étant un modèle incroyablement positif et soucieux de la communauté.
Lorsqu'on lui a demandé quels étaient les points forts de son travail d'entraîneur et de bénévole, Larry a répondu que le fait de voir l'association et les joueurs grandir et se développer était le plus important. Au cours de sa carrière d'entraîneur, il a vu des joueurs progresser, de leur première apparition sur le terrain jusqu'au baseball AAA, et il apprécie toujours que les joueurs reviennent lui parler de l'époque où ils jouaient pour lui.
Il est clair que Larry a eu un impact majeur sur d'innombrables joueurs de Beaubassin et qu'il est un entraîneur et un membre exécutif de l'association dévoué. Pour cette raison, Baseball NB est fier de lui décerner le titre d'entraîneur du mois de juin. Merci, Larry, pour tout ce que tu fais !
-
As Player and Coach of the Month for June, both Larry and Marcus will be receiving a Baseball NB prize package. If you know a player, coach, or volunteer that deserves to be recognized for July, please fill out a nomination form here: Nomination Form
En tant que joueur et entraîneur du mois de juin, Larry et Marcus recevront tous deux un ensemble de prix de Baseball NB. Si vous connaissez un joueur, un entraîneur ou un bénévole qui mérite d'être reconnu pour le mois de juillet, veuillez remplir un formulaire de mise en candidature ici : Formulaire de nomination