RBI New Brunswick - Season Recap / RBI Nouveau-Brunswick - Récap de la saison
---
---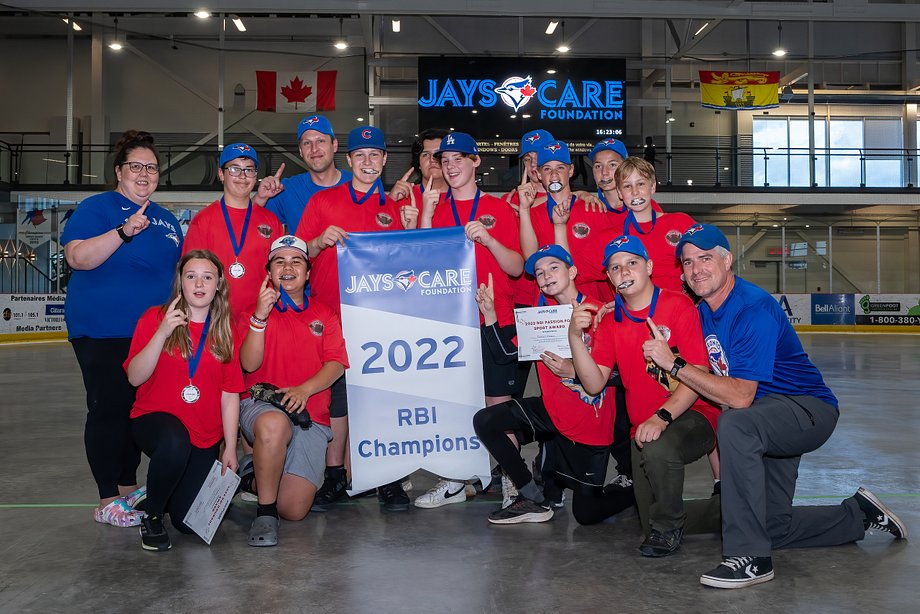 ---
The RBI New Brunswick program has had another successful season! With teams 13 teams competing from 12 schools, the season concluded with the final tournament on June 10th in Grand Falls. Although the weather didn't cooperate for us to be outdoors, fun was had by all.
RBI New Brunswick is a free Jays Care Foundation program for upper-elementary and middle school youth in the Grand Falls area. This season, over 250 youth participated. The season began with coaches' training in April, followed by in-school practices. In mid-May, league games began between schools, with the season concluding with the end-of-year tournament.
Baseball New Brunswick was happy to partner with Jays Care this year to help run a successful program. Meghan, our summer Program Coordinator, acted as the League Coordinator for the program. We look forward to continuing this partnership with Jays Care moving forward.
A big thank you goes out to everyone who made this program possible this year. Shout out to Alex Mohamed from Jays Care for overseeing the program, and to all of the coaches involved. The program could not run without a dedicated and enthusiastic group of teachers and volunteer coaches.
If you are interested in learning more about the program, please do not hesitate to reach out to Meghan, at meghanbeland@gmail.com, or Alex, at Alex.Mohamed@bluejays.com. The program will pick back up next spring, with registration occurring in March.
-
Le programme RBI du Nouveau-Brunswick a connu une autre saison réussie ! Avec 13 équipes de 12 écoles, la saison s'est terminée avec le tournoi final le 10 juin à Grand-Sault. Bien que la météo n'a pas coopéré pour que nous soyons à l'extérieur, tout le monde s'est amusé.
RBI New Brunswick est un programme gratuit de la Fondation Jays Care destiné aux jeunes des écoles primaires et secondaires de la région de Grand-Sault. Cette saison, plus de 250 jeunes ont participé. La saison a commencé par une formation des entraîneurs en avril, suivie d'entraînements à l'école. À la mi-mai, les matchs de ligue ont commencé entre les écoles, et la saison s'est terminée avec le tournoi de fin d'année.
Baseball Nouveau-Brunswick était heureux de s'associer à Jays Care cette année pour contribuer à la réussite du programme. Meghan, notre coordonnatrice des programmes d'été, a agi à titre de coordonnatrice de la ligue pour le programme. Nous nous réjouissons de poursuivre ce partenariat avec Jays Care à l'avenir.
Un grand merci à tous ceux qui ont rendu ce programme possible cette année. Un grand merci à Alex Mohamed de Jays Care pour avoir supervisé le programme, et à tous les entraîneurs impliqués. Le programme ne pourrait pas fonctionner sans un groupe d'enseignants et d'entraîneurs bénévoles dévoués et enthousiastes.
Si vous souhaitez en savoir plus sur le programme, n'hésitez pas à contacter Meghan (meghanbeland@gmail.com) ou Alex (Alex.Mohamed@bluejays.com). Le programme reprendra au printemps prochain et les inscriptions auront lieu en mars.